Homemade Homes by Accent
We're Homemade Homes by Accent. Experts in Shared Ownership.
We are Homemade Homes by Accent. We are experts in Shared Ownership. We make it simple to understand and are here to help you find your ideal home. Homemade Homes by Accent is part of Accent Housing Limited, which provides over 20,000 homes in the North, South and East of the UK. We want to be 'with you for your journey'; whether helping you take the first step onto the housing ladder or helping you search for a new home, we will be right there with you.
We have Shared Ownership homes across the country, from Surrey to Yorkshire and have helped hundreds of people. We offer new and resale Shared Ownership homes and support our current customers in buying more of their home or selling it when they want to move on.
You can view our available and upcoming homes here or visit our main website.
Homemade Homes by Accent makes buying a home possible; you simply buy a share in your home that's right for you. That could be from 10% up to 75% initially. Then, you'll pay monthly rent on the share you don't own, along with a monthly service charge.
Buying a share may mean you need a lower mortgage and deposit than purchasing a property outright. Shared Ownership can be a cost-effective way to start the property ladder and is ideal for first-time buyers. In addition, Shared Ownership may work out less per month than renting privately.
In the future, as your finances allow, you may be able to buy further shares in your home.
Our team are experts in Shared Ownership and will be delighted to help you with any questions.
Video
Featured Properties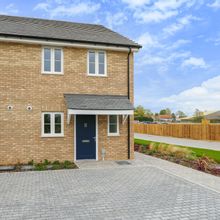 East Cambridgeshire - Shared Ownership New Build
Share percentage 40%, full price £312,000, £12,480 Min Deposit.
Our Developments