Peabody
Peabody - More than just a place to live.
We deliver services to 111,000 residents, 8,000 care and support customers, and the wider communities in which we work.
We focus on those who need our help the most, working with people and communities to build resilience and promote wellbeing. We create and invest in great places where people want to live. Our ambitious housebuilding programme will deliver at least 2,500 homes every year.
We want to carry on making robust, architecturally beautiful additions to London in the way we've always done. What they look like and how they sit in the city is very important to us. Whether we are building new homes, managing existing properties or building thriving communities, we never lose sight of the fact that our customers are at the heart of everything we do.
For more information about Peabody and view our available homes for Shared Ownership, visit www.peabodysales.co.uk.
Video
Featured Properties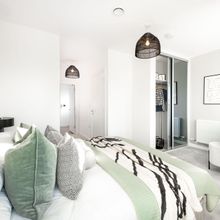 Shared Ownership New Build
Share percentage 25%, full price £590,000, £14,750 Min Deposit.
Our Developments