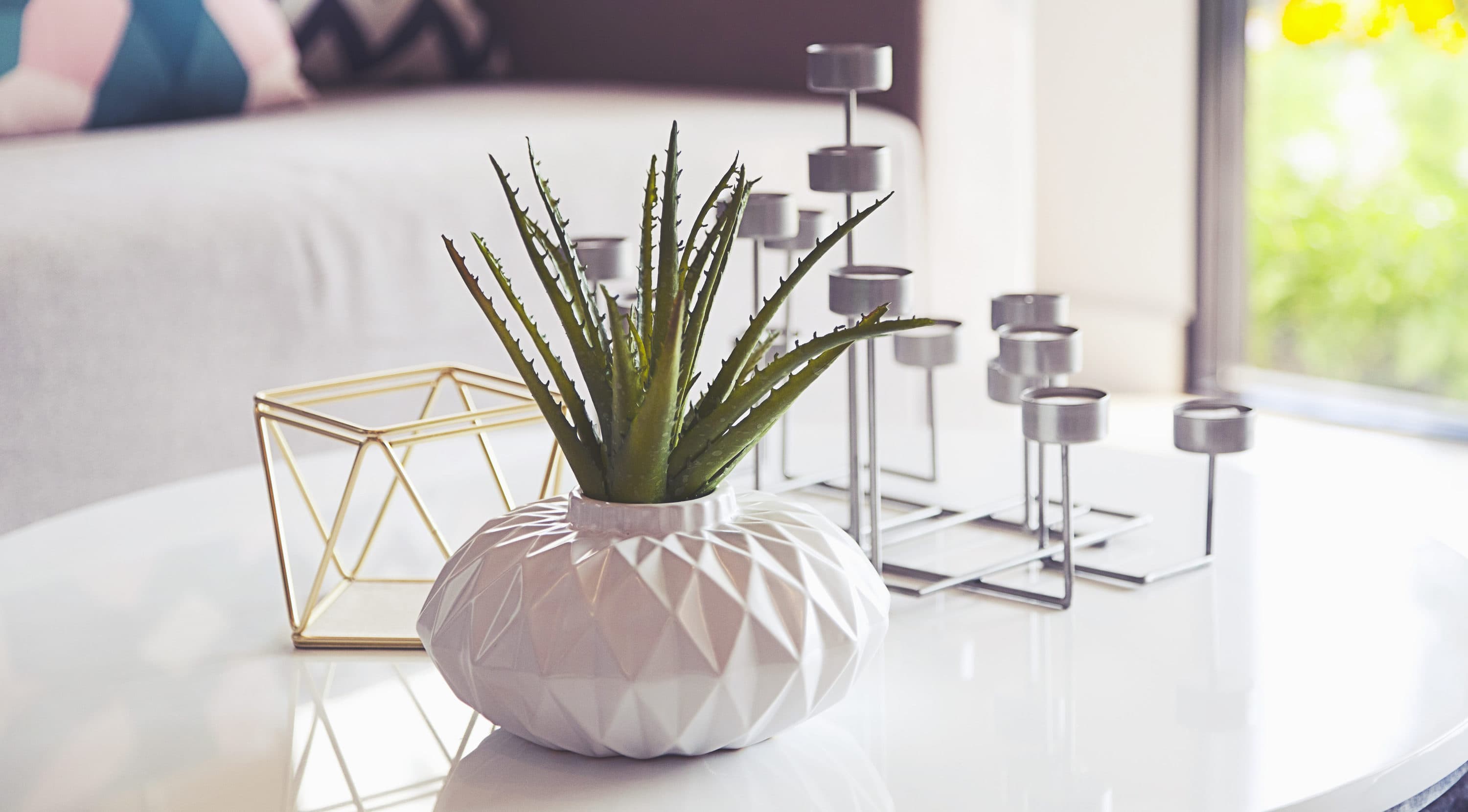 Top Tips: How to bring nature into your home
20th June 2018
The best ways to bring the outdoors into your home
Time and time again, studies have proven that being surrounded by nature is good for our well-being and mental health. Whether you enjoy the fragrant aromas of flowers, the rich colours of succulents or the functionality of your very own herb garden, we've taken a look at the best ways to bring that tranquil feeling into your home and make your abode feel more like the great outdoors!
Plants
This may seem like the most obvious way to bring a tad of the outdoors into your home but a big factor of this is buying the right houseplants based on the condition of each room.
For example, Anthurium's have a rare ability to flower for 300 days of the year but require warm conditions so direct sunlight would be best, perhaps finding solace by a large window in the living room. On the other hand, Peace Lily's offer soft dark green foliage which thrive in deep shade and are better suited to darker rooms such as bedrooms with less natural light.
Colour
Bringing nature into your home doesn't mean having to fill your front room with huge potted plants. Instead, why not start small with adding a touch of green to your décor – whether that be some cyan glassware, a couple of pistachio coloured scatter cushions or a vivid green feature wall!
Herbs
Creating your own herb garden in the kitchen has become a popular way of bringing a bit of nature indoors. Bolt baskets, small wooden crates or any other holders to the wall (ensuring these are placed near a window so they get a lot of sunlight) and pot whichever herbs you want. Not only will they look lovely, but they'll also fill your home with beautiful aromas, plus you'll have fresh ingredients to hand whenever you're cooking!
Furniture
Wicker has always been a favourite for people wanting to bring a little bit of that outdoorsy feel into their homes, but most wooden furniture will do the trick. Whether you go for a full oak dining set or put up a couple of simple pine shelves, these pieces will be sure to bring a nice rustic feel to your home.
Flowers
Who ever said that you couldn't buy yourself a bunch of flowers? If you love adorning your home with fresh blooms, then take a weekly trip to your local florist or supermarket and pick up a bunch or two to brighten up your home. Plus, seasonal selections will mean that the flowers in your home are ever changing with the weather and you'll never get bored of the beautiful colours and arrangements! 
Light
The easiest and cheapest way to make your home feel closer to nature is to make the most of natural light! Replace bulky curtains that block light and crack open the windows to make the most of the fresh air.
Succulents
Succulents are perfect for people who, despite loving nature, just aren't gifted with green thumbs; they are the easiest plants to look after and require very minimal care, just a good spot in the sun and a dash of water every couple of weeks. From Aloe Vera and Burro's Tail to Zwartkop and Zebra Plants, there's an endless array of plants available too!
What are your top tips on bringing nature into your home? You can let us know at @SharetoBuy over on Twitter, Facebook and Instagram.
Share to Buy is a one stop shop for affordable homes. On our website, you can search for Shared Ownership and Help to Buy properties, compare mortgages, and find out all you need to know about alternative home buying schemes using our FAQs and guides.