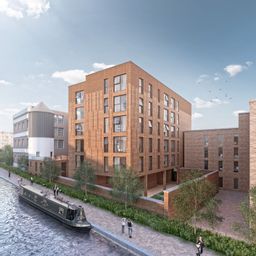 Birmingham · Shared Ownership New Build
Share percentage 50%, full price £265,000
Helping you along the buying process
What is Shared Ownership?
Shared Ownership is an affordable home ownership scheme which makes it easier for eligible purchasers to get on the property ladder. Buyers get a mortgage for the share they can afford, and pay rent on the remaining share.
The steps to find your new Shared Ownership home
Research
We have a wealth of tools, FAQs, guides and blogs to help you understand your options
Search for a property
Find the right home for you in Birmingham and register your interest
Speak to the specialists
Contact a Mortgage Broker and Solicitor Panels to help you through the buying process
Featured Developers
The major providers of Shared Ownership, Help to Buy and other affordable ways to buy a home in Birmingham and nationwide have their homes listed on Share to Buy.
Find your home with Share to Buy
Learn more about the UK's leading first time buyer property portal, specialising in affordable home ownership options including Shared Ownership and Help to Buy
Start your search today
Who are Share to Buy?
Share to Buy is the leading online portal for Shared Ownership properties. Established in 2004 as the UK's first specialist online mortgage broker for affordable home ownership products, the site has since developed into a one stop shop for first time buyers, offering the country's largest listing of Shared Ownership homes from many of the UK's biggest housing providers.
Why should I register with Share to Buy?
Share to Buy is the nation's biggest and best established affordable home ownership property portal, making it the ideal website for first time buyers looking to take that first step onto the property ladder.
Using our property search tool, you can search for homes that suit your needs via filters such as location, number of bedrooms, monthly outgoings and deposit amount. You can also set up alert preferences so you'll be notified when new properties that meet your search are announced by email.
Acting as a one stop shop for first time buyers, Share to Buy also offers handy FAQs and guides, interactive mortgage tools, mortgage broker and conveyancing panels, and live events to help potential purchasers on their home-buying journey.
Shared Ownership Birmingham | Shared Ownership Properties For Sale in Birmingham - Share to Buy
For first time buyers who believe that purchasing their own home is out of reach, Shared Ownership homes in Birmingham can help them to take those vital first steps on to the property ladder. Help to Buy homes in Birmingham can also help potential purchasers to put down roots in an area they love, and finally, find a place to call their own.
If you want to keep up to date with Shared Ownership and Help to Buy homes in Birmingham, all you have to do is sign up to Share to Buy and register to receive alerts. We'll then automatically notify you when new properties become available.
Although Birmingham may have moved on considerably from its position as a manufacturing powerhouse during the industrial revolution, it is a city which has, in one way or another, never looked back from its transformation. Today, it stands as a vitally important part of the British economy.
It leads the way in employment for several sectors, including health and education, among others. This means there are plenty of job opportunities for those looking to call Birmingham their new home. This, alongside its place as a major transport hub, further increases the possibilities for career-minded individuals.
Plus, being home to five universities makes this city a great location for those who have access to higher education as a priority. For many, this makes Birmingham a logistically sound choice that meets so many of their needs.
But simply pointing out the great employment and educational possibilities doesn't give you a sense of the spirit of Birmingham. This isn't a city which is simply a wise decision for you or your family's prospects. It certainly is that, but there's so much more life and vibrancy to Birmingham than just business and busses.
It's a city that is as proud of its past as it is excited about its future. It boasts an unfaltering love for music, from the classical – best symbolised by its iconic symphony hall – to the modern musical juggernaut: the 02 Arena. This passion for the creative can also be seen through its many museums and art galleries. But Birmingham's love affair with culture can't be contained within a frame, with the city being home to Britain's longest-standing producing theatre, among many other performing art venues.