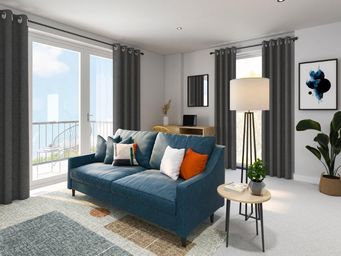 East Hertfordshire · Shared Ownership New Build
Share percentage 25%, full price £310,000
Helping you along the buying process
What is Shared Ownership?
Shared Ownership is an affordable home ownership scheme which makes it easier for eligible purchasers to get on the property ladder. Buyers get a mortgage for the share they can afford, and pay rent on the remaining share.
The steps to find your new Shared Ownership home
Research
We have a wealth of tools, FAQs, guides and blogs to help you understand your options
Search for a property
Find the right home for you in Bishop's Stortford and register your interest
Speak to the specialists
Contact a Mortgage Broker and Solicitor Panels to help you through the buying process
Featured Developers
The major providers of Shared Ownership, Help to Buy and other affordable ways to buy a home in Bishop's Stortford nationwide have their homes listed on Share to Buy.
Find your home with Share to Buy
Learn more about the UK's leading first time buyer property portal, specialising in affordable home ownership options including Shared Ownership and Help to Buy
Start your search today
Who are Share to Buy?
Share to Buy is the leading online portal for Shared Ownership properties. Established in 2004 as the UK's first specialist online mortgage broker for affordable home ownership products, the site has since developed into a one stop shop for first time buyers, offering the country's largest listing of Shared Ownership homes from many of the UK's biggest housing providers.
Why should I register with Share to Buy?
Share to Buy is the nation's biggest and best established affordable home ownership property portal, making it the ideal website for first time buyers looking to take that first step onto the property ladder.
Using our property search tool, you can search for homes that suit your needs via filters such as location, number of bedrooms, monthly outgoings and deposit amount. You can also set up alert preferences so you'll be notified when new properties that meet your search are announced by email.
Acting as a one stop shop for first time buyers, Share to Buy also offers handy FAQs and guides, interactive mortgage tools, mortgage broker and conveyancing panels, and live events to help potential purchasers on their home-buying journey.
Shared Ownership Bishop's Stortford - Shared Ownership Properties for Sale in Bishop's Stortford - Share to Buy
If you're a first time buyer, you may feel worried that home ownership is a prospect beyond your reach. With Shared Ownership homes in Bishop's Stortford though, that initial first step on the property ladder is closer than you realise. Help to Buy homes in Bishop's Stortford are also a great choice for buyers looking to find their dream home in an ideal location.
Do you want to stay up to date with Shared Ownership and Help to Buy properties in Bishop's Stortford? Simply sign up to Share to Buy and register to receive alerts when new properties become available in your desired market.
When we look at the very best areas to live in Britain, they are all unique but retain one thing in common: that is variety. This means variety in the experiences and the opportunities that they offer, as well as in the depth of their culture and character. Bishop's Stortford is a place which perfectly exemplifies this.
Firstly, you only need to take a look at this market town's incredible history. Believed to have been abandoned by the Romans sometime in the 5th century, it found settlers later from the Saxons and the Normans, while it grew throughout the millennium. Connections were made to London through the River Stort, and it transformed into a market town and corn exchange for the first time in the 19th century. Around a hundred years later, it was a major evacuation centre in WWI. All this makes Bishop's Stortford a truly fascinating place, and one which has a culture that has been deepened by its rich heritage.
However, what makes Bishop's Stortford truly special is that it manages to perfectly balance this respect for the past with an eye for the future. The Rhodes Arts Complex, for instance, integrates a theatre, dance studio, cinema and a museum to offer a cutting-edge entertainment hub. This blend of the old and new – the variety of new experience with historical wisdom – makes it stand out from so many other places.
That's just one example. There's also a wealth of opportunities for the residents of Bishop's Stratford, with plenty of employment and educational options in the town itself – especially in the tourism and retail industries, as well as elsewhere. This brings us to another big reason why Bishop's Stortford can offer so many different options in such a small space. That's because, thanks to excellent transport links, those opportunities are not confined within the market town.
The City of London is under an hour away with connections to various areas throughout the capital. This allows a lot of people who would struggle to get by living in very expensive London districts to be able to follow their ambitions. Once again, Bishop's Stortford strength is in how much choice it can offer its residents.
Of course, this is without mentioning all the small businesses and attractions which pull Bishop's Stortford together and make it so much more than a commuter town. This is just the tip of the iceberg. The only real way of seeing everything it has to offer is to check it out yourself.