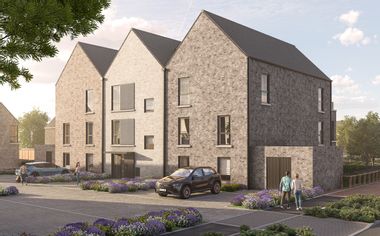 South Cambridgeshire · Shared Ownership New Build
Share percentage 30%, full price £255,000
Helping you along the buying process
What is Shared Ownership?
Shared Ownership is an affordable home ownership scheme which makes it easier for eligible purchasers to get on the property ladder. Buyers get a mortgage for the share they can afford, and pay rent on the remaining share.
The steps to find your new Shared Ownership home
Research
We have a wealth of tools, FAQs, guides and blogs to help you understand your options
Search for a property
Find the right home for you in Cambridge and register your interest
Speak to the specialists
Contact a Mortgage Broker and Solicitor Panels to help you through the buying process
Featured Developers
The major providers of Shared Ownership, Help to Buy and other affordable ways to buy a home in Cambridge and nationwide have their homes listed on Share to Buy.
Find your home with Share to Buy
Learn more about the UK's leading first time buyer property portal, specialising in affordable home ownership options including Shared Ownership and Help to Buy
Start your search today
Who are Share to Buy?
Share to Buy is the leading online portal for Shared Ownership properties. Established in 2004 as the UK's first specialist online mortgage broker for affordable home ownership products, the site has since developed into a one stop shop for first time buyers, offering the country's largest listing of Shared Ownership homes from many of the UK's biggest housing providers.
Why should I register with Share to Buy?
Share to Buy is the nation's biggest and best established affordable home ownership property portal, making it the ideal website for first time buyers looking to take that first step onto the property ladder.
Using our property search tool, you can search for homes that suit your needs via filters such as location, number of bedrooms, monthly outgoings and deposit amount. You can also set up alert preferences so you'll be notified when new properties that meet your search are announced by email.
Acting as a one stop shop for first time buyers, Share to Buy also offers handy FAQs and guides, interactive mortgage tools, mortgage broker and conveyancing panels, and live events to help potential purchasers on their home-buying journey.
Shared Ownership Cambridge - Shared Ownership Properties for Sale in Cambridge - Share to Buy
For first time buyers who believe that purchasing their own home is out of reach, Shared Ownership homes in Cambridge can help them to take those vital first steps on to the property ladder. Help to Buy homes in Cambridge can also help potential purchasers to put down roots in an area they love, and finally find a place to call their own.
If you want to keep up to date with Shared Ownership and Help to Buy homes in Cambridge, all you have to do is sign up to Share to Buy and register to receive alerts. We'll then automatically notify you when new properties become available.
If you're not familiar with Cambridge, you'd be forgiven for only bringing its world class university to mind. This is not only understandable: it's almost inevitable. After all, this is a university city, with its student population and the culture that comes with it giving Cambridge so much of its local character.
And this is certainly something to be hugely proud of. We imagine you know enough about this renowned educational establishment to know that it's not only one of the finest in the country, but internationally as well. So well known and deserved are its accolades, that singing of its well-known praises is simply pointing out the obvious.
So with that in mind, we'd like to stress that in no way are we undermining the importance of Cambridge University, nor its achievements, by focusing on the other attractions and benefits of this city. There's simply just so much more on offer here.
As a city, Cambridge is incredibly creative, with a love of art and culture matched only by few other areas. This is obvious through its multiple well-established theatrical venues, such as the famed Arts Theatre and the new kid on the block, Cambridge Junction. For larger performances, even the Cambridge Corn Exchange opens its doors to theatrical, comedic and musical acts.
Speaking of the latter, Cambridge has quite the musical legacy. It's probably best known as the home of Pink Floyd but bands, including the likes of Muse and drum and bass producers Logistics, all have their roots here. It's also a city with a rich love of history, as encapsulated by the likes of Fitzwilliam Museum and the Museum of Cambridge. And of course, if you prefer your history in the flesh, the city has plenty of fascinating landmarks for you to explore as well.
Cambridge is part of the Cambridgeshire & Peterborough Combined Authority. The CPCA is made up of six districts – Cambridge City, East Cambridgeshire, Fenland, Huntingdonshire, Peterborough and South Cambridgeshire.
For first time buyers who are looking to get on the property ladder in the CPCA, find out about the affordable homes available across the region.