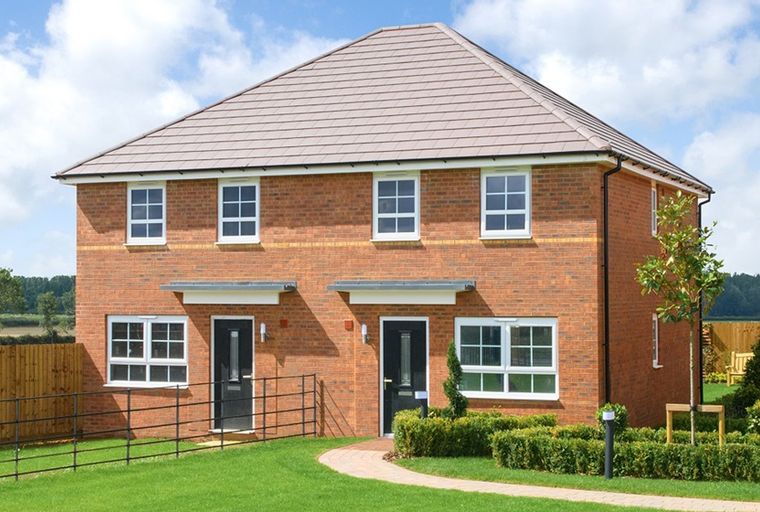 County Durham · Shared Ownership New Build
Share percentage 50%, full price £207,990
Helping you along the buying process
What is Shared Ownership?
Shared Ownership is an affordable home ownership scheme which makes it easier for eligible purchasers to get on the property ladder. Buyers get a mortgage for the share they can afford, and pay rent on the remaining share.
The steps to find your new Shared Ownership home
Research
We have a wealth of tools, FAQs, guides and blogs to help you understand your options
Search for a property
Find the right home for you in Durham and register your interest
Speak to the specialists
Contact a Mortgage Broker and Solicitor Panels to help you through the buying process
Featured Developers
The major providers of Shared Ownership, Help to Buy and other affordable ways to buy a home in Durham and nationwide have their homes listed on Share to Buy.
Find your home with Share to Buy
Learn more about the UK's leading first time buyer property portal, specialising in affordable home ownership options including Shared Ownership and Help to Buy
Start your search today
Who are Share to Buy?
Share to Buy is the leading online portal for Shared Ownership properties. Established in 2004 as the UK's first specialist online mortgage broker for affordable home ownership products, the site has since developed into a one stop shop for first time buyers, offering the country's largest listing of Shared Ownership homes from many of the UK's biggest housing providers.
Why should I register with Share to Buy?
Share to Buy is the nation's biggest and best established affordable home ownership property portal, making it the ideal website for first time buyers looking to take that first step onto the property ladder.
Using our property search tool, you can search for homes that suit your needs via filters such as location, number of bedrooms, monthly outgoings and deposit amount. You can also set up alert preferences so you'll be notified when new properties that meet your search are announced by email.
Acting as a one stop shop for first time buyers, Share to Buy also offers handy FAQs and guides, interactive mortgage tools, mortgage broker and conveyancing panels, and live events to help potential purchasers on their home-buying journey.
Shared Ownership Durham - Shared Ownership Properties for Sale in Durham - Share to Buy
If Durham sounds like your ideal location but you're concerned about getting your foot on the property ladder as a first-time buyer, then Shared Ownership homes in Durham could be your ideal solution. Help to Buy homes in Durham are also an affordable option that can help you settle down somewhere you love.
Staying up to date with the latest Shared Ownership and Help to Buy properties in Durham couldn't be simpler. Just sign up to Share to Buy and register to receive alerts. We'll then notify you when suitable properties become available.
Durham may be a city – and indeed, it has all of the qualities which make life in a city so spectacular. What really makes it special though, is that it manages to balance this with the many benefits of countryside and small-town living.
In terms of cultural spots, restaurants, pubs and local businesses – in other words, all the places that facilitate everyday life – Durham provides an abundance of new sights, sounds and experiences. This charming cathedral city can stand up against pretty much anywhere. You can generally enjoy what it has to offer without overwhelming crowds in all but the absolute most popular spots at the very peak times. In other words, you get all of the convenience, but none of the fuss.
Much like the finest examples of any British location, many of the most stunning sights here are historical, with a huge amount of listed buildings within its boundaries. The gorgeous Durham Cathedral and Castle, Cook Hall and Gardens, Palace Green are all perfectly preserved pieces of history unburdened by a changing world.
In addition, the city boasts museums that any bustling city would be proud of. These include the Oriental Museum and the Durham Museum and Heritage Centre, as just some examples of the extraordinary variety and range of experiences on offer. Perhaps though, there is no better example of the beautiful balance of British life here than the fact that all these attractions are surrounded by impeccable greenery.
It's also a very practical place to live, with a great selection of schools for all ages, alongside rail and road links that can take you everywhere from Edinburgh to London, and plenty in between. There are also excellent bus routes and Park and Ride sites to further help travel within Durham. This can, of course, be hugely helpful in ensuring that wherever you choose to work – whether it's within Durham's diverse economy or beyond – you're connected to a multitude of opportunities.
From the practical to the spectacular, from the local pubs to the centuries-old castles, Durham has so much to offer. Ultimately though, what makes this all so special is that it's more than the sum of its parts and is versatile enough to provide a great home for all lifestyles.