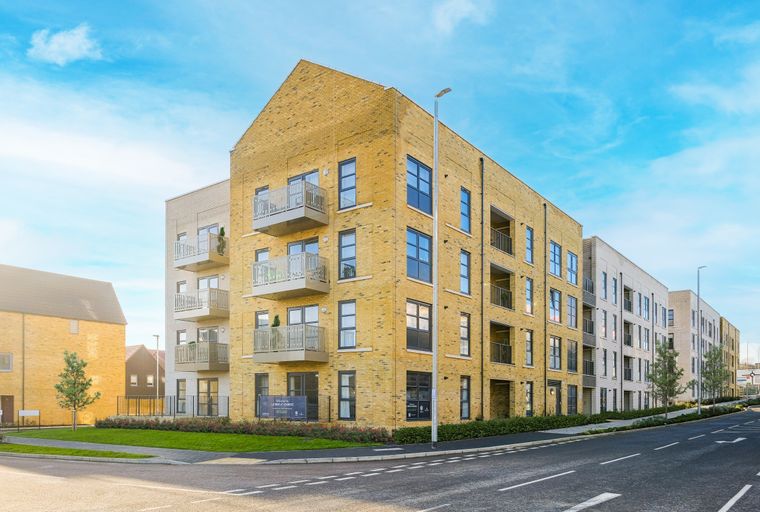 Dartford · Shared Ownership New Build
Share percentage 35%, full price £242,500
Helping you along the buying process
What is Shared Ownership?
Shared Ownership is an affordable home ownership scheme which makes it easier for eligible purchasers to get on the property ladder. Buyers get a mortgage for the share they can afford, and pay rent on the remaining share.
The steps to find your new Shared Ownership home
Research
We have a wealth of tools, FAQs, guides and blogs to help you understand your options
Search for a property
Find the right home for you in Ebbsfleet and register your interest
Speak to the specialists
Contact a Mortgage Broker and Solicitor Panels to help you through the buying process
Featured Developers
The major providers of Shared Ownership, Help to Buy and other affordable ways to buy a home in Ebbsfleet and nationwide have their homes listed on Share to Buy.
Find your home with Share to Buy
Learn more about the UK's leading first time buyer property portal, specialising in affordable home ownership options including Shared Ownership and Help to Buy
Start your search today
Who are Share to Buy?
Share to Buy is the leading online portal for Shared Ownership properties. Established in 2004 as the UK's first specialist online mortgage broker for affordable home ownership products, the site has since developed into a one stop shop for first time buyers, offering the country's largest listing of Shared Ownership homes from many of the UK's biggest housing providers.
Why should I register with Share to Buy?
Share to Buy is the nation's biggest and best established affordable home ownership property portal, making it the ideal website for first time buyers looking to take that first step onto the property ladder.
Using our property search tool, you can search for homes that suit your needs via filters such as location, number of bedrooms, monthly outgoings and deposit amount. You can also set up alert preferences so you'll be notified when new properties that meet your search are announced by email.
Acting as a one stop shop for first time buyers, Share to Buy also offers handy FAQs and guides, interactive mortgage tools, mortgage broker and conveyancing panels, and live events to help potential purchasers on their home-buying journey.
Shared Ownership Ebbsfleet - Shared Ownership Properties for Sale in Ebbsfleet - Share to Buy
If you're a first time buyer, then you may feel disheartened that home ownership is a prospect out of your reach. Thankfully though, with Shared Ownership homes in Ebbsfleet, that vital first step onto the property ladder can be made more accessible than ever. Help to Buy homes in Ebbsfleet are also a great option for buyers looking to get the keys to their dream property.
Staying up to date with the latest Shared Ownership and Help to Buy properties in Ebbsfleet is simple. All you need to do is sign up to Share to Buy and register to receive alerts when relevant properties become available.
If you're looking for somewhere to arrive and make an impact, then you are in some pretty good company here. Ebbsfleet is an area with a rich and storied history, but it's likely that it's most famous for three very important arrivals. First was Julius Caesar – the effect of whose invasion can be felt two millennia later. Then there's Hengist and Horsa, the legendary brothers who conquered the United Kingdom, as well as Augustine of Canterbury, who brought Christianity to England in 597 AD.
While we don't imagine you plan on conquering the country, we think Ebbsfleet is the perfect place to create a positive impact in your life. The fresh air will certainly help. Ebbsfleet has no shortage of sensationally beautiful parks and natural spaces to get away from it all. As long as its history is, there is something truly timeless about the charms of a stroll; we must admit there is a sense of the green and pleasant lands of poems from long ago here.
Of course, Ebbsfleet is historic: that's what gives the area so many unique attractions along with its own local culture. It's one which has far more depth than just a few very significant visitors. It's also located in the larger county of Kent, meaning that while Ebbsfleet provides the perfect escape from the hustle and bustle of the bigger cities for a lot of people, it is not so far removed to be away from the conveniences of more metropolitan areas.
It boasts the best of both worlds, so you don't have to miss out on anything. If there's something that Ebbsfleet can't deliver, then it'll always just be a short drive away. All in all, Ebbsfleet is the little hamlet where big things can, have, and will happen.