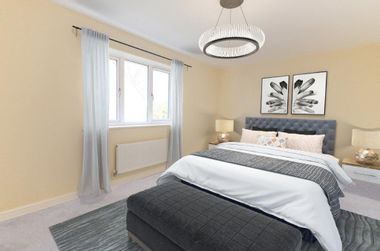 Central Bedfordshire · Shared Ownership New Build
Share percentage 50%, full price £345,000
Helping you along the buying process
What is Shared Ownership?
Shared Ownership is an affordable home ownership scheme which makes it easier for eligible purchasers to get on the property ladder. Buyers get a mortgage for the share they can afford, and pay rent on the remaining share.
The steps to find your new Shared Ownership home
Research
We have a wealth of tools, FAQs, guides and blogs to help you understand your options
Search for a property
Find the right home for you in Leighton Buzzard and register your interest
Speak to the specialists
Contact a Mortgage Broker and Solicitor Panels to help you through the buying process
Featured Developers
The major providers of Shared Ownership, Help to Buy and other affordable ways to buy a home in Leighton Buzzard and nationwide have their homes listed on Share to Buy.
Find your home with Share to Buy
Learn more about the UK's leading first time buyer property portal, specialising in affordable home ownership options including Shared Ownership and Help to Buy
Start your search today
Who are Share to Buy?
Share to Buy is the leading online portal for Shared Ownership properties. Established in 2004 as the UK's first specialist online mortgage broker for affordable home ownership products, the site has since developed into a one stop shop for first time buyers, offering the country's largest listing of Shared Ownership homes from many of the UK's biggest housing providers.
Why should I register with Share to Buy?
Share to Buy is the nation's biggest and best established affordable home ownership property portal, making it the ideal website for first time buyers looking to take that first step onto the property ladder.
Using our property search tool, you can search for homes that suit your needs via filters such as location, number of bedrooms, monthly outgoings and deposit amount. You can also set up alert preferences so you'll be notified when new properties that meet your search are announced by email.
Acting as a one stop shop for first time buyers, Share to Buy also offers handy FAQs and guides, interactive mortgage tools, mortgage broker and conveyancing panels, and live events to help potential purchasers on their home-buying journey.
Shared Ownership Leighton Buzzard - Shared Ownership Properties for Sale in Leighton Buzzard - Share to Buy
Many first time buyers feel disheartened that the prospect of home ownership is out of their reach. Thankfully though, with Shared Ownership homes in Leighton Buzzard, that doesn't have to be the case. They can help you take that vital first step onto the property ladder, just as Help to Buy homes in Leighton Buzzard can help buyers lay down roots in their dream location.
We make it so quick and easy to stay up to date with the latest Shared Ownership and Help to Buy properties in Leighton Buzzard. Simply sign up to Share to Buy and register to receive alerts when relevant properties are added to the market.
Just like the great railways for which Leighton Buzzard is known for, this town in Bedfordshire is one part of the UK that at once feels vital to its country's progress into the future, as well as being an important part of its past. And we are not just talking about the Great Train Robbery here either.
Firstly, there are plenty more historical gems to be found in Leighton Buzzard. Indeed, even if you stuck purely to railways, you'd still find a wide variety of attractions to enjoy in that regard; this is especially true considering the town is home to the Leighton Buzzard Light, one of the largest narrow-Gauge railways in the world.
But there's much more elsewhere too, like the Grand Union Canal and the All Saints Church, the beginning of the famous annual Wilkes Walk, which takes place on North Street on Rogation Sunday every year. There's even a series of mysterious tunnels beneath the high street, believed to have originated from medieval times, although not that much is known about them to this day.
The town's rich history has left its mark everywhere here, in the steam of its trains and beneath the streets where you walk. It's something that binds the area together and is proof positive of why it has contributed so much to the UK over the years. It is something that the residents can take pride in, and something which provides a great deal of the distinctive culture and character of Leighton Buzzard.
However, it is not all the area is about. Leighton Buzzard has so much history because it constantly adapted to new times and today is no different. It continues to grow and improve, providing more opportunities, more stories, more creativity and more experiences with each passing day. One day, people will talk about the things happening now in Leighton Buzzard with the reverence of all that came before, just like those old railway lines.