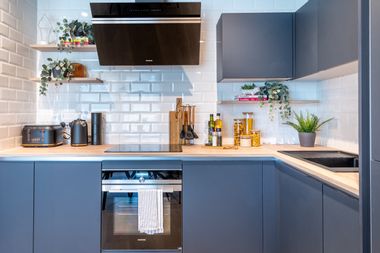 Brighton and Hove · Shared Ownership New Build
Share percentage 35%, full price £377,500
Helping you along the buying process
What is Shared Ownership?
Shared Ownership is an affordable home ownership scheme which makes it easier for eligible purchasers to get on the property ladder. Buyers get a mortgage for the share they can afford, and pay rent on the remaining share.
The steps to find your new Shared Ownership home
Research
We have a wealth of tools, FAQs, guides and blogs to help you understand your options
Search for a property
Find the right home for you in Saltdean and register your interest
Speak to the specialists
Contact a Mortgage Broker and Solicitor Panels to help you through the buying process
Featured Developers
The major providers of Shared Ownership, Help to Buy and other affordable ways to buy a home in Saltdean and nationwide have their homes listed on Share to Buy.
Find your home with Share to Buy
Learn more about the UK's leading first time buyer property portal, specialising in affordable home ownership options including Shared Ownership and Help to Buy
Start your search today
Who are Share to Buy?
Share to Buy is the leading online portal for Shared Ownership properties. Established in 2004 as the UK's first specialist online mortgage broker for affordable home ownership products, the site has since developed into a one stop shop for first time buyers, offering the country's largest listing of Shared Ownership homes from many of the UK's biggest housing providers.
Why should I register with Share to Buy?
Share to Buy is the nation's biggest and best established affordable home ownership property portal, making it the ideal website for first time buyers looking to take that first step onto the property ladder.
Using our property search tool, you can search for homes that suit your needs via filters such as location, number of bedrooms, monthly outgoings and deposit amount. You can also set up alert preferences so you'll be notified when new properties that meet your search are announced by email.
Acting as a one stop shop for first time buyers, Share to Buy also offers handy FAQs and guides, interactive mortgage tools, mortgage broker and conveyancing panels, and live events to help potential purchasers on their home-buying journey.
Shared Ownership Saltdean - Shared Ownership Properties for Sale in Saltdean - Share to Buy
Are you a first-time buyer worried about achieving your home ownership aspirations? Well, Shared Ownership homes in Saltdean could be your ideal solution. They can help you take that vital first step onto the property ladder. Similarly, Help to Buy homes in Saltdean offer affordable options for buyers looking to lay down roots in locations they love.
To stay up to date with the latest Shared Ownership and Help to Buy properties in Saltdean, all you need to do is sign up to Share to Buy. From there, you can register to receive alerts when relevant properties become available in your desired area.
Surrounded by the likes of Brighton, Newhaven and Lewes, many places would perhaps fade into the background in comparison to such splendid parts of the country. After all, they boast some truly incredible beauty, attractions and huge personalities. However, Saltdean is no ordinary part of the country. It's stunning greenlands alone set it apart from the pack, filled with impeccable farmlands and the magnificent South Downs National Park.
It is probably little surprise considering the great greenery all around you that Saltdean initially made its name in the farming industry, thanks to its rich, bountiful land. In fact, its modern history doesn't begin until 1924. This is a big part of the reason why it remains so unspoiled by the sometimes-wearing passage of time.
Much of Saltdean looks exactly las it did centuries ago in terms of natural beauty. That is something that, unfortunately, not that many places can still claim. And, of course, it's impossible to talk about the many gorgeous sights in Saltdean without mentioning that astounding coastal view. Broken up by chalky white cliffs, it is, like so many of Saltdean, timeless.
However, we don't want to give the impression that Saltdean hasn't progressed over the last century. This is an area that has left the vital sights untouched while modernising elsewhere to make a perfect place to live and visit. It's more than a pretty face: it's a community, with a distinctive depth of character that can be found in everything from the chippy to the pier.
For many people, Saltdean is a place to go for the weekend to get away from everything. To be fair, it's a pretty great place to do exactly that. But we think it's an even better place to call home, thanks to just how much there is to do, see and experience here. And that's not to mention it's wonderful neighbouring areas, which would be an asset anywhere.