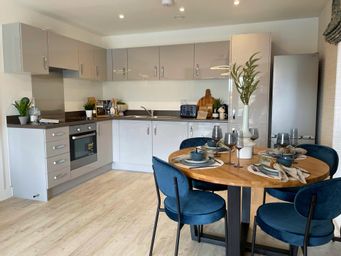 Gloucester · Shared Ownership New Build
Share percentage 30%, full price £237,500
Helping you along the buying process
What is Shared Ownership?
Shared Ownership is an affordable home ownership scheme which makes it easier for eligible purchasers to get on the property ladder. Buyers get a mortgage for the share they can afford, and pay rent on the remaining share.
The steps to find your new Shared Ownership home
Research
We have a wealth of tools, FAQs, guides and blogs to help you understand your options
Search for a property
Find the right home for you in Somerton and register your interest
Speak to the specialists
Contact a Mortgage Broker and Solicitor Panels to help you through the buying process
Featured Developers
The major providers of Shared Ownership, Help to Buy and other affordable ways to buy a home in Somerton and nationwide have their homes listed on Share to Buy.
Find your home with Share to Buy
Learn more about the UK's leading first time buyer property portal, specialising in affordable home ownership options including Shared Ownership and Help to Buy
Start your search today
Who are Share to Buy?
Share to Buy is the leading online portal for Shared Ownership properties. Established in 2004 as the UK's first specialist online mortgage broker for affordable home ownership products, the site has since developed into a one stop shop for first time buyers, offering the country's largest listing of Shared Ownership homes from many of the UK's biggest housing providers.
Why should I register with Share to Buy?
Share to Buy is the nation's biggest and best established affordable home ownership property portal, making it the ideal website for first time buyers looking to take that first step onto the property ladder.
Using our property search tool, you can search for homes that suit your needs via filters such as location, number of bedrooms, monthly outgoings and deposit amount. You can also set up alert preferences so you'll be notified when new properties that meet your search are announced by email.
Acting as a one stop shop for first time buyers, Share to Buy also offers handy FAQs and guides, interactive mortgage tools, mortgage broker and conveyancing panels, and live events to help potential purchasers on their home-buying journey.
Shared Ownership Somerton - Shared Ownership Properties for Sale in Somerton - Share to Buy
Many first-time buyers can feel disheartened that the prospect of home ownership is beyond their reach. Thankfully though, Shared Ownership homes in Somerton can make that vital first step onto the property ladder more accessible than ever. Help to Buy homes in Somerton are also ideal for buyers looking to lay down roots in their ideal location.
Do you want to keep up to date with the latest Shared Ownership and Help to Buy properties in Somerton? First, just sign up to Share to Buy and from there, you can register to receive alerts when relevant properties are added to the market.
Somerton of Somerset is not just a wonderfully lyrical name: it's also one of the most charming towns you're likely to come across in these British Isles. In fact, the similarity in the names is no coincidence. The county of Somerset actually gets its name from Somerton, giving you an idea of just how big an influence the town has on its wider area. This is also something that works both ways because Somerton, in many ways, feels like a condensed version of so much of what makes its county such a remarkable place to be.
We may as well start with the obvious and that's all the beautiful green spaces. These shine even brighter thanks to the area's pleasant climate, which is warmer and sunnier than much of the rest of the country. It's also situated close enough to the likes of the breath-taking limestone canyons of Cheddar Gorge, the vibrant Quantock Hills and many more must-see sights to make them easily accessible for those taken by a wanderlust.
Of course, Somerton is also a place of great history. This is something which provides the town with so many sensational sights, creating a truly unique place to live. There's perhaps no better example of this than the main square with its market cross, the likes of which have been around since the late 14th century. It's something which is iconic to the area and still benefits the modern community to this day.
That is a perfect example of how Somerton utilises the strengths of its past to bolster and create depth in the present day. Its rich heritage can also be seen in the incredible architecture found around the town. All this creates a visual representation of the proud local culture and community.
Speaking of which, just as important are all those practical details which make up everyday living. Here you'll find plenty of shops, restaurants, pubs and more to fulfil your needs, meaning the beauty of Somerton doesn't come at the expense of convenience.