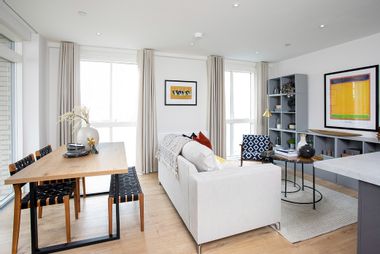 Newham · Shared Ownership New Build
Share percentage 25%, full price £652,500
Helping you along the buying process
What is Shared Ownership?
Shared Ownership is an affordable home ownership scheme which makes it easier for eligible purchasers to get on the property ladder. Buyers get a mortgage for the share they can afford, and pay rent on the remaining share.
The steps to find your new Shared Ownership home
Research
We have a wealth of tools, FAQs, guides and blogs to help you understand your options
Search for a property
Find the right home for you in Stratford and register your interest
Speak to the specialists
Contact a Mortgage Broker and Solicitor Panels to help you through the buying process
Featured Developers
The major providers of Shared Ownership, Help to Buy and other affordable ways to buy a home in Stratford and nationwide have their homes listed on Share to Buy.
Find your home with Share to Buy
Learn more about the UK's leading first time buyer property portal, specialising in affordable home ownership options including Shared Ownership and Help to Buy
Start your search today
Who are Share to Buy?
Share to Buy is the leading online portal for Shared Ownership properties. Established in 2004 as the UK's first specialist online mortgage broker for affordable home ownership products, the site has since developed into a one stop shop for first time buyers, offering the country's largest listing of Shared Ownership homes from many of the UK's biggest housing providers.
Why should I register with Share to Buy?
Share to Buy is the nation's biggest and best established affordable home ownership property portal, making it the ideal website for first time buyers looking to take that first step onto the property ladder.
Using our property search tool, you can search for homes that suit your needs via filters such as location, number of bedrooms, monthly outgoings and deposit amount. You can also set up alert preferences so you'll be notified when new properties that meet your search are announced by email.
Acting as a one stop shop for first time buyers, Share to Buy also offers handy FAQs and guides, interactive mortgage tools, mortgage broker and conveyancing panels, and live events to help potential purchasers on their home-buying journey.
Shared Ownership Stratford - Shared Ownership Properties for Sale in Stratford - Share to Buy
As a first time buyer, it can be easy to feel down-heartened about the prospect of home ownership. With Shared Ownership homes in Stratford though, that vital first step on the property ladder can be within your reach. Help to Buy homes in Stratford are also a great option for buyers looking to settle down somewhere special.
If you want to stay up to date with the latest Shared Ownership and Help to Buy properties in Stratford, then we make it so quick and simple. All you need to do is sign up to Share to Buy and register to receive alerts – it really is that simple!
There's probably no better modern example of a district that has progressed as quickly or as dramatically as Stratford. Part of Greater London, the area only came into public focus for much of the country due to its place in the 2012 Summer Olympics. It's fair to say that this was also a huge turning point for the district in general.
Before this point, Stratford had suffered a downturn following de-industrialisation. Thankfully though, the regeneration brought about by those Olympic investments seemed to blow away the cobwebs and restore Stratford to its former glory in a new and revamped way.
Today, it's hard to imagine the difficulties that the area faced not so long ago. The multibillion-pound investments have resulted in exceptional shopping centres, sports facilities, new residential areas and cultural additions, such as improvements to educational facilities and the Victoria and Albert Museum.
These changes are extremely welcome in Stratford and they've provided fresh opportunities and improved the lives of the people living there. However, it's worth pointing out that, although the area's history was not without its challenges, it is a history that is well worth holding onto. After all, it's this which makes Stratford so unique and provides the area with its distinct landmarks and architecture. Examples of these include the Old Town Hall and the King Edward VII public house.
In fact, if you take a look at these landmarks alongside some modern examples – like the ArcelorMittal Orbit, the 114-metre tall sculpture and the country's largest piece of public art – you get a good sense of what Stratford has become. It's a district that's as respectful of the depth of its culture and history as it is ambitious about the future.
Of course, this is all without mentioning its position within London, giving it the benefit of excellent transport links throughout the city and beyond. This means residents have a world of opportunity, both professionally and in terms of entertainment, at their disposal.