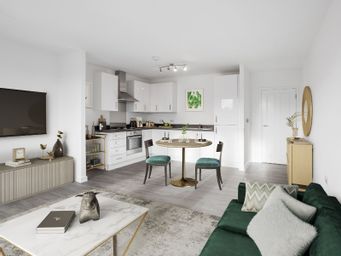 South Hams · Shared Ownership New Build
Share percentage 25%, full price £235,000
Helping you along the buying process
What is Shared Ownership?
Shared Ownership is an affordable home ownership scheme which makes it easier for eligible purchasers to get on the property ladder. Buyers get a mortgage for the share they can afford, and pay rent on the remaining share.
The steps to find your new Shared Ownership home
Research
We have a wealth of tools, FAQs, guides and blogs to help you understand your options
Search for a property
Find the right home for you in Torbay and register your interest
Speak to the specialists
Contact a Mortgage Broker and Solicitor Panels to help you through the buying process
Featured Developers
The major providers of Shared Ownership, Help to Buy and other affordable ways to buy a home in Torbay and nationwide have their homes listed on Share to Buy.
Find your home with Share to Buy
Learn more about the UK's leading first time buyer property portal, specialising in affordable home ownership options including Shared Ownership and Help to Buy
Start your search today
Who are Share to Buy?
Share to Buy is the leading online portal for Shared Ownership properties. Established in 2004 as the UK's first specialist online mortgage broker for affordable home ownership products, the site has since developed into a one stop shop for first time buyers, offering the country's largest listing of Shared Ownership homes from many of the UK's biggest housing providers.
Why should I register with Share to Buy?
Share to Buy is the nation's biggest and best established affordable home ownership property portal, making it the ideal website for first time buyers looking to take that first step onto the property ladder.
Using our property search tool, you can search for homes that suit your needs via filters such as location, number of bedrooms, monthly outgoings and deposit amount. You can also set up alert preferences so you'll be notified when new properties that meet your search are announced by email.
Acting as a one stop shop for first time buyers, Share to Buy also offers handy FAQs and guides, interactive mortgage tools, mortgage broker and conveyancing panels, and live events to help potential purchasers on their home-buying journey.
Shared Ownership Torbay - Shared Ownership Properties for Sale in Torbay - Share to Buy
The prospect of home ownership can often feel out of reach for many first-time buyers. Thankfully, Shared Ownership homes in Torbay offer the ideal solution, giving you the boost you need to take that vital first step onto the property ladder. Similarly, Help to Buy homes in Torbay provides affordable options for buyers looking to turn their property aspirations into reality.
To stay updated with the latest Shared Ownership and Help to Buy properties in Torbay, simply sign up to Share to Buy. From there, you can register to receive alerts when new properties become available in your desired location.
The beautiful borough of Torbay is truly one of this country's most astounding areas. How else could you possibly describe somewhere which incorporates a trio of beauties of the calibre of Torquay, Brixham and Paignton.
Anyone of those areas on their own represents a truly astounding place to live: each with their distinct history, incredible natural assets and fascinating cultures. It's no surprise then, considering all this – coupled with Torbay's elegant, sun-kissed beaches alongside an almost continental climate – that it has been given the nickname of the English Riviera.
Despite the remarkable reputation that this part of the country more than deserves, there is one misconception surrounding Torbay which we think is unjustified. That's the fact that many people view the borough as more of a tourist area than a place to settle down and call home for good.
We'd like to preface this by saying that, of course, Torbay makes for an excellent holiday destination. Its climate is seemingly custom-built for relaxing in the sunshine and the feeling of sand beneath your feet is incomparable. However, it's also a wonderful place to live.
For starters, those attributes don't just lose their appeal after a long weekend. That incredible harbour won't look any less gorgeous no matter how long you marvel at it and you'll always have an appreciation for better quality weather than the majority of the British Isles.
Aside from that, it is important to remember that Torbay is a real community. It boasts an array of pubs, restaurants, shops and suburbs. Along with making memories for holidaymakers, these local businesses also bring a depth, history, culture and character to the borough.
After all, there's a reason why so many people have been deciding for decades that there's no better place to spend their downtime than Torbay. We think that many people deciding where they want to find their permanent home will come to the same conclusion.