You are unique. Choose Persona Homes, and your new home will be too.
Because life is complicated enough
Persona homes are designed for living. From well-planned spaces to contemporary architecture, every detail has been carefully considered to make life more simple. With a home that looks great and works well, all you have to do is enjoy it.
We're with you every step of the way
Relax - you're in safe hands. Whether you're a first-time buyer or you've done it before, moving house can be a stressful experience. Your Persona host will be with you at every stage of the process, working hard on your behalf to help make your dream home a reality.
Delivering more as standard
We're on a mission to give our customers a better home-buying experience. Choose Persona, and enjoy more support, more flexibility and more fixtures and fittings as standard. That's the Persona difference.
We put people before profit
Persona is part of Home Group, a housing and social change charity with over 80 year's experience of building lives through better homes. To us, success is about having a positive impact on people's lives.
Video
Featured Properties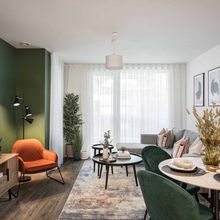 Brent - Shared Ownership New Build
Share percentage 25%, full price £490,000, £6,125 Min Deposit.
Our Developments