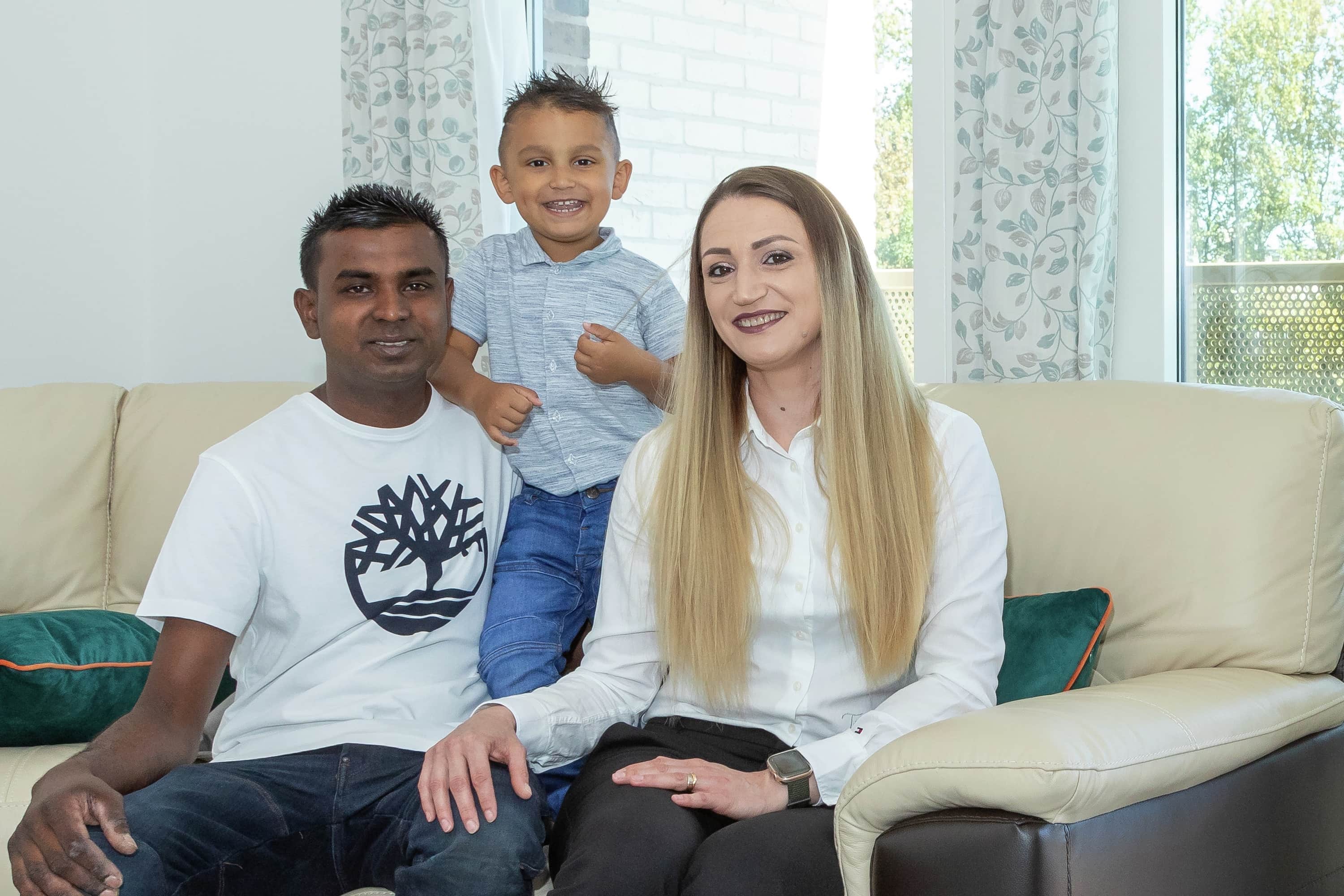 Help to Buy Success Stories: Anamaria and Pawan
3rd April 2020
Countryside: Help to Buy helps Anamaria and Pawan's homeowning dream become a reality
Having previously rented in Enfield for over 10 years, Anamaria, 41, and Pawan Rambojan, 39, along with their four year old son, were keen to invest in their future and hop onto the property ladder.
After looking at new builds in the area, the family were instantly impressed with Countryside's Elements development in Enfield and purchased a two bedroom apartment for £370,000.
Anamaria and Pawan both work in central London. Anamaria commented: "We reached that point in life where you're fed up of renting and just want your independence. We like everything about our new home, especially the layout. The best part about owning your own home is definitely having the freedom to do whatever we want."
Elements is an exciting new development that is transforming the area around Ponders End station in Enfield. Anamaria said: "We looked at other developments that were closer to Stratford and Walthamstow but the prices there are mad! Elements offered the best combination of affordability and location, and we're so happy to have bought our first home here."
Commenting on the location and proximity to Ponders End station, with a secondary school and primary school also bordering the development, Anamaria said: "We don't have a car, so it was so important to us that we had everything around. At Elements this isn't a problem – our son starts school at Alma Primary School in September, which is just a five minute walk away, and the station is literally on our doorstep!"
Anamaria and Pawan were able to purchase their new home with Countryside thanks to the government-backed Help to Buy initiative, which provided an interest-free loan of 40% of the £370,000 purchase price. Anamaria commented: "Help to Buy was so important. Buying our first home involved a long process of saving, including making a lot of sacrifices, but if you really want it you can do it."
Anamaria and Pawan both commute to London for work, taking advantage of the 17 minute train journey to London Liverpool Street from Ponders End station. This prime location for the station has another benefit too: "Our son loves the balcony – it's perfect for watching the trains go past!" added Anamaria.
With homes at Elements selling fast, Anamaria and Pawan did not hesitate before reserving their dream apartment; they confirmed the exact same day they looked around the development, on their first visit. Anamaria explained: "Sometimes you have to trust your first impressions. I really liked the development and the apartment and so I went for it!"
Help to Buy is a government backed scheme which aims to help first time buyers get a foot onto the property ladder. The Help to Buy equity loan enables purchasers to buy a new build home with the help of an equity loan, also known as shared equity.
Please note that the Help to Buy: Equity Loan is subject to eligibility, terms and conditions. For further information about the home-buying and application process with the Help to Buy: Equity Loan, please refer to the Help to Buy Agent in your area. 
Share to Buy is a one stop shop for first time buyers looking to get a foot on the property ladder. Start planning your future today and check out our available properties, or visit our helpful FAQs and guides to find out more about Shared Ownership. You can also hear from more buyers via our Shared Ownership Success Stories and Help to Buy Success Stories!