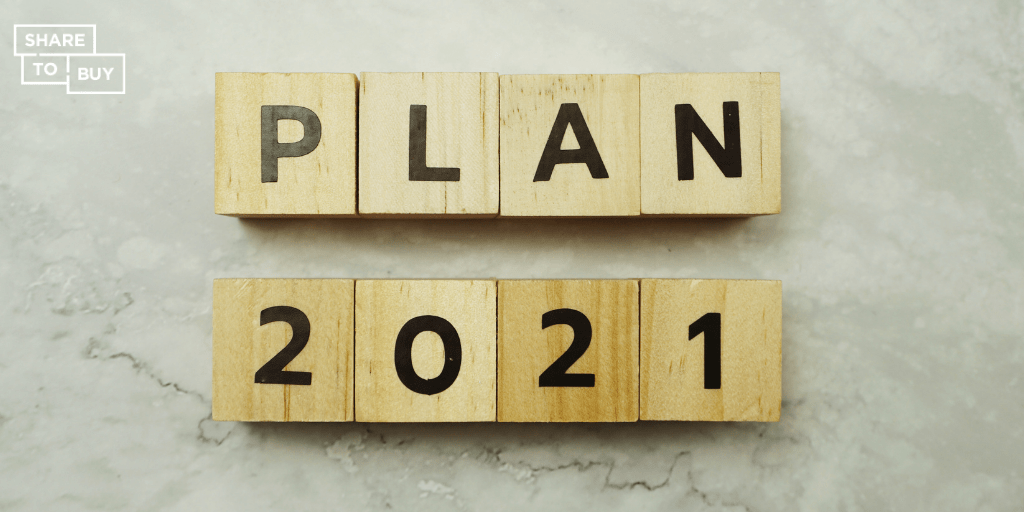 How to buy your first home in 2021
28th December 2020
Top tips for getting on the property ladder in the New Year
It's been a challenging year and no doubt there are many who will be pleased to see the back of 2020, so what better way to bring in the new year than by looking to the future and thinking about what 2021 may hold!
If your new year's resolution is to buy a home to call your own, Share to Buy want to help you on your journey by answering some of those frequently asked questions about preparing to buy a home, and offering advice on how you can get a foot on the property ladder.
Research your housing options
Many first time buyers are left feeling priced out of the property market due to increasing house prices and large deposits – but that doesn't mean you can't purchase your first home! If you can't quite afford to buy on the open market, why not look into alternative homebuying schemes.
Whether you want to part-buy part-rent a home through Shared Ownership, or have a higher deposit saved and want to buy a new build property with the Help to Buy equity loan, there are other options available to you.
However, for those looking to buy through Help to Buy, don't forget that a new version of the scheme will be coming into effect from April 1st which will see changes to the current eligibility criteria!
Assess your affordability
Taking control of your finances is a vital step towards buying your first home. It's important that you understand where your money is going so be sure to review your spending habits in advance of trying to get on the property ladder.
When saving to purchase a home, budding buyers will often factor costs such as reservation fees and deposits. However, it's important that you're aware of every expense that could crop up throughout the process such as legal fees, valuations fees and moving costs. It's crucial that you do your research beforehand and prepare your finances accordingly!
We would also recommend speaking with your financial adviser who will be able to assess your finances and discuss the options best suited to your circumstances.
Decide on the type of home
Buying your first home is going to require a lot of research. On top of assessing your finances, comparing house prices and deciding on a tenure, you'll also need to determine which type of property suits you best. For example, do you prefer the clean lines of a new build home or the character of an older property?
On Share to Buy, you can view thousands of Shared Ownership and Help to Buy listings all across the country to help you narrow down your search. You can use filters such as number of bedrooms, search radius and accessibility to hone in on your ideal home, and can even register to receive alerts when new properties that fit your criteria are announced by email.
Find the best mortgage for you
Whichever way you're looking to buy your new home, the likelihood is that you'll need to take out a mortgage for your property. To assist budding buyers, we offer a number of helpful guides and interactive tools such as an Affordability Calculator and Mortgage Comparison tool to help you start the process.
You may wish to work with a mortgage adviser who can look into your finances and make an assessment on how much you may be able to borrow. You should also be able to get the all-important mortgage offer in principle which proves to sellers that you can afford what's on the table!
Prepare to buy your first home
There's a number of things you can do to get started on your home-buying journey. As well as researching the different options and types of properties that are available, you may also want to view case studies and testimonials from other buyers who purchased through schemes such as Shared Ownership and Help to Buy.
If you're hoping to get on the ladder as quickly as possible, a sure-fire way to speed up the process is to ensure all of your paperwork is ready to go. Generally, lenders will require a number of supporting documents to accompany your mortgage application, including copies of your ID, proof of address and bank statements.
We at Share to Buy would like to wish you all a happy start to the new year. If you have any questions about the buying process, the different types of housing schemes available or any of the services we offer, please reach out to us on our social media channels at @SharetoBuy on Twitter, Facebook and Instagram and we will be happy to help!