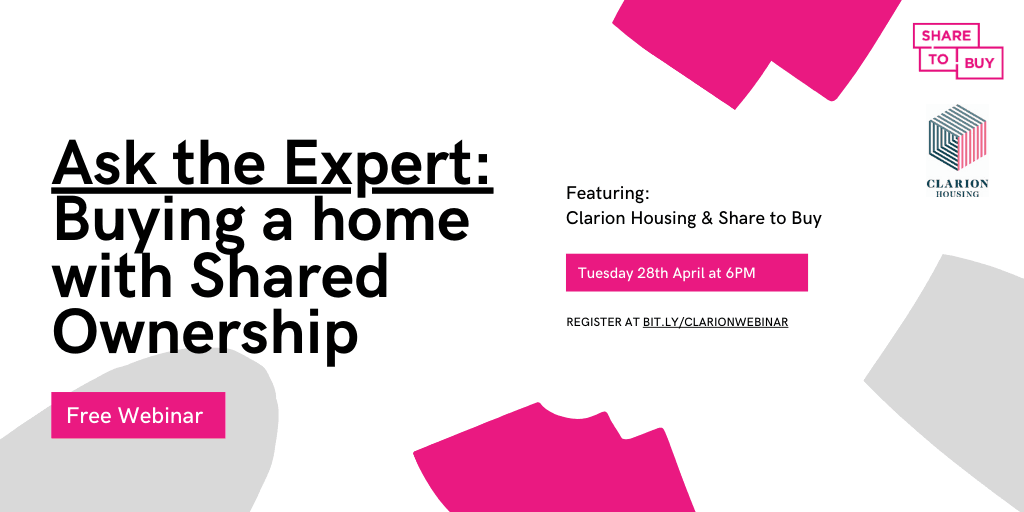 Clarion Housing to join the Share to Buy Expert Sessions
24th April 2020
Share to Buy and Clarion Housing to host live Shared Ownership webinar
Amidst lockdown, many buyers may fear that their home-buying journey has come to a grinding halt but that doesn't have to be the case! A key part of the buying process is research and making sure you have all the details you need to make an informed decision.
In a bid to help prospective purchasers who are keen on finding out all they need to know about buying a home, our weekly Share to Buy Sessions will see a member of our team joined by an industry expert for a live webinar.
The first of this new webinar series will be taking place on Tuesday 28th April at 6pm. Ask the Expert: Buying a home with Shared Ownership will be hosted by Share to Buy and Clarion Housing. Natasha Tull – Regional Sales Manager at Clarion Housing – will be discussing all you need to know about buying through the Shared Ownership scheme. This session will cover the basics of Shared Ownership, showcase some of the properties available, and will open up to a live Q&A opportunity at the end of the session.
Over the coming weeks, Share to Buy will be joined by some of the biggest names in affordable homes including Southern Home Ownership, Peabody, Catalyst, Savills and JLL.
These sessions will offer tons of information about Shared Ownership and Help to Buy including eligibility and affordability criteria. Viewers who tune in each week will also have access to explanatory presentations, video tours of available homes and live Q&A sessions with industry experts amongst other resources! Budding buyers are invited to message Share to Buy with their questions via Facebook, Twitter and Instagram. Alternatively, viewers can also ask their questions during each webinar via an online chat tool.
To register for the first seminar on Tuesday 28th April, follow this link. To keep up to date with all future webinars, be sure to follow our social media channels and keep an eye on our Share to Buy Expert Sessions landing page for weekly updates.