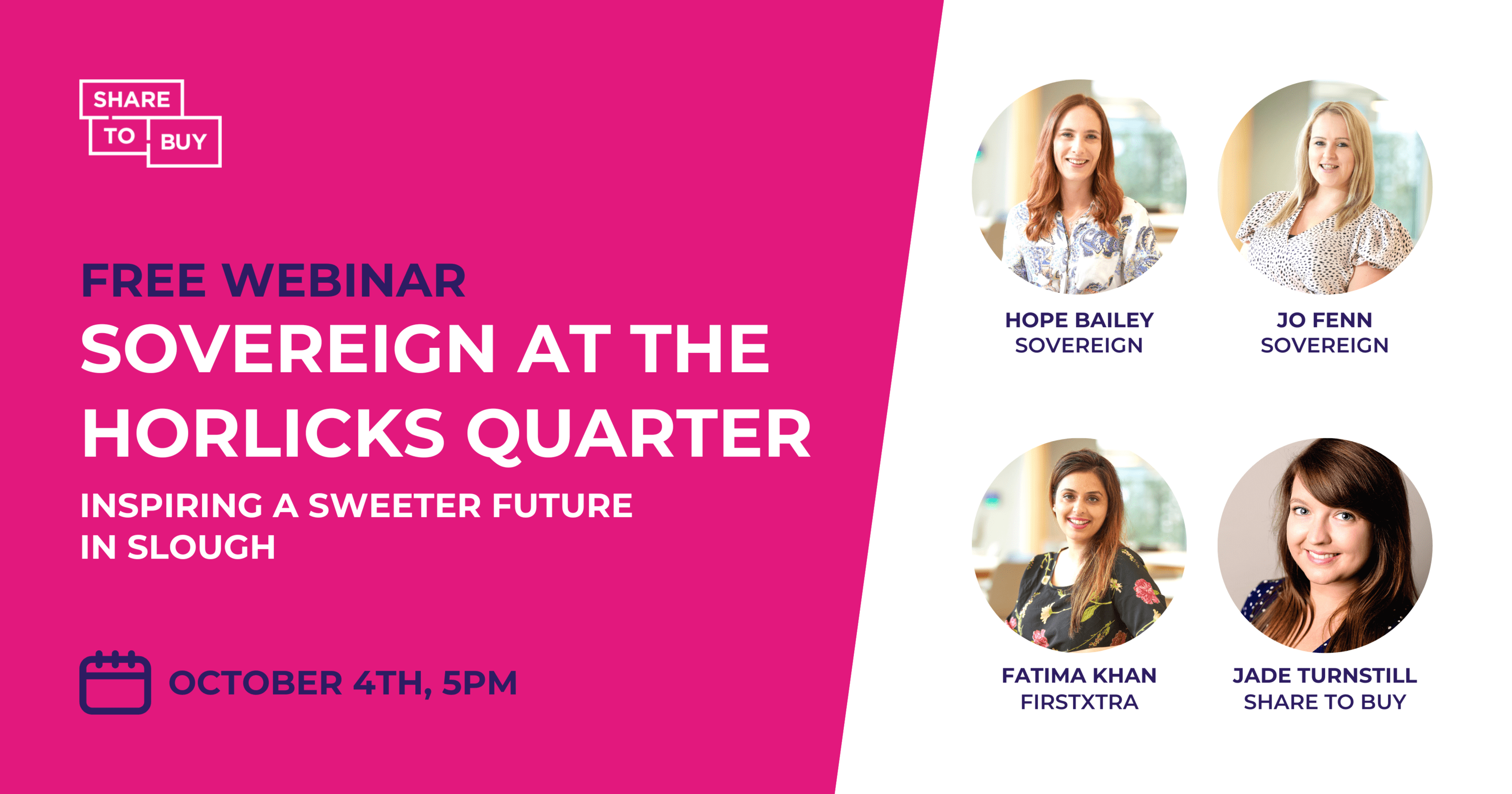 Webinar: Sovereign at Horlicks Quarter and a live Q&A
20th September 2022
Sovereign talk Shared Ownership in Berkshire this October
Join Sovereign at 5pm on Tuesday 4th October for a webinar to discover more about Sovereign's iconic Horlicks Quarter development in Slough and how you could purchase your very own place with Shared Ownership.
Chaired by Jade Turnstill from Share to Buy, this webinar is an opportunity to get exclusive information about the upcoming launch, a first-look at some of the available homes, and behind the scenes footage from site.
Hope Bailey and Jo Fenn from Sovereign's sales team will be joined by a Fatima Khan, a mortgage advisor at Firstxtra Financial Services. The session will also open up to a live Q&A where there will be a chance to ask any questions you may have – whether it is about the Horlicks Quarter development, Shared Ownership eligibility, the application process, or financial and mortgage questions.
Meet Share to Buy
Share to Buy is the country's leading online portal for first time buyers. Established in 2004, our website has become a one stop shop for budding buyers, offering the country's largest listing of Shared Ownership homes for sale.
Meet Sovereign
Sovereign is a leading housing association, striving to provide quality, affordable homes in the south of England, with almost 60,000 homes focused in a core area covering Berkshire, Hampshire, Oxfordshire, Gloucestershire, Dorset, Devon, Wiltshire, the West of England and the Isle of Wight.
Meet Firstxtra Financial Services
Firstxtra Financial Services has been trading for over 20 years with a team of highly skilled and enthusiastic professional advisors and administrators who specialise in mortgages and protection insurance.
To find out more about The Horlicks Quarter development, click here.
Tune it at 5pm on Tuesday 4th October for 'Sovereign at the Horlicks Quarter: Inspiring a sweeter future in Slough' – register for a place here! To find out more about Sovereign's latest developments, visit their website.
Share to Buy is a one stop shop for affordable homes. On our website, you can search for properties, compare mortgages and find out all you need to know about alternative home buying schemes such as Shared Ownership and Help to Buy.