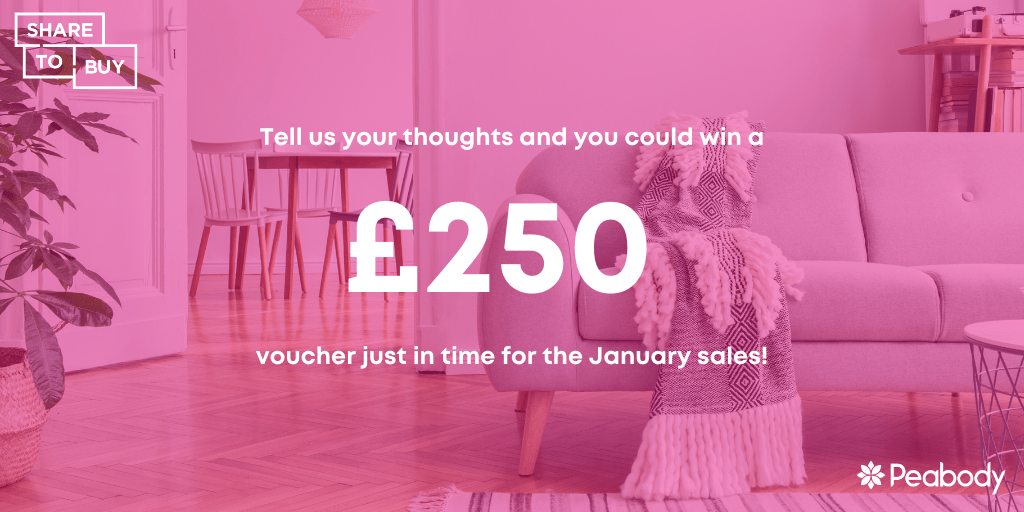 Win a £250 voucher with Share to Buy and Peabody!
2nd December 2020
Take part in our short questionnaire to be entered into a prize draw to win a £250 gift card
Can you spare five minutes to complete our survey, and be in with a chance of winning a £250 gift card?
Share to Buy are partnering with leading housing association, Peabody, to find out more about your property hunt – from what kind of home you're looking for to where you're hoping to buy.
Two winners will be selected at random, and will get a choice of a £250 voucher for one of five stores – either IKEA, Amazon, B&Q, John Lewis or Next Home. The winners will be contacted by Share to Buy on or before Wednesday 30th December, just in time to make the most of the January sales!
Thank you so much for taking part and good luck in the prize draw!
Share to Buy is a one stop shop for affordable homes. On our website, you can search for properties, compare mortgages and find out all you need to know about alternative home buying schemes such as Shared Ownership and Help to Buy via our FAQs and guides.