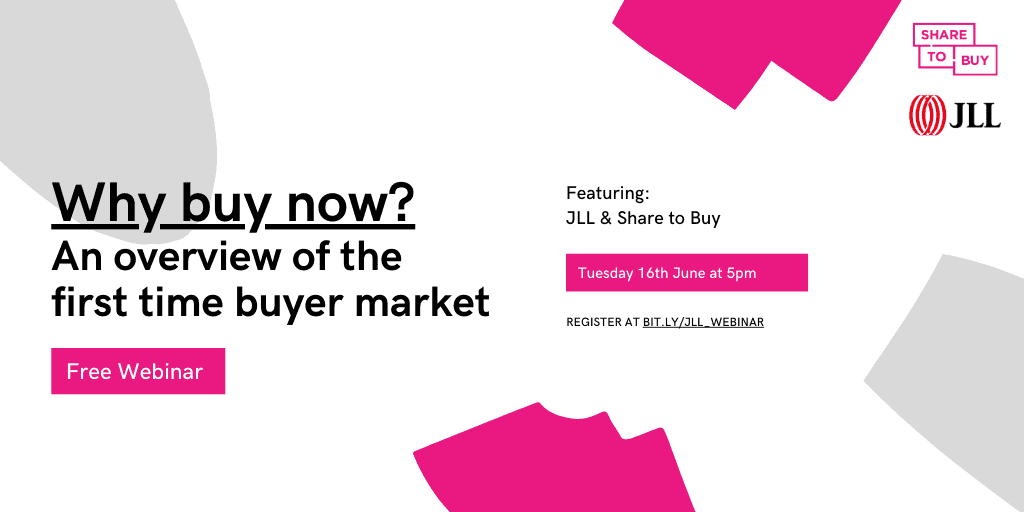 JLL to join the Share to Buy Expert Sessions
12th June 2020
Share to Buy and JLL discuss the property market for first time buyers
In the seventh instalment of the Share to Buy Expert Sessions, we'll be joined Holly Stock, Eloise Robins and Kimberly Markiewicz from JLL.
Taking place on Tuesday 16th June at 5pm, Why buy now? An overview of the first time buyer market will feature representatives from JLL's Shared Ownership, Help to Buy and Research teams discussing housing market forecasts and buyers changing priorities. They'll also be shining a spotlight on some of their qualifying homes before opening up to a live Q&A where viewers can ask their questions!
In Share to Buy's Expert Sessions so far, we've been joined by some of the biggest names in affordable homes. You can check out our previous webinars with Clarion Housing (Ask the Expert: Shared Ownership), Catalyst (Your buying options during lockdown), Savills (How to afford your first home), Peabody (Shared Ownership vs Help to Buy), Southern Home Ownership (Shared Ownership Explained) and SO Resi (Navigating your homeownership journey).
These sessions offer tons of information about Shared Ownership and Help to Buy including eligibility and affordability criteria. Viewers who tune in each week will also have access to explanatory presentations, video tours of available homes and live Q&A sessions with industry experts amongst other resources! Budding buyers are invited to message Share to Buy with their questions via Facebook, Twitter and Instagram. Alternatively, viewers can also ask their questions during each webinar via an online chat tool.
To keep up to date with all future webinars, be sure to follow our social media channels and keep an eye on our Share to Buy Expert Sessions landing page for weekly updates.