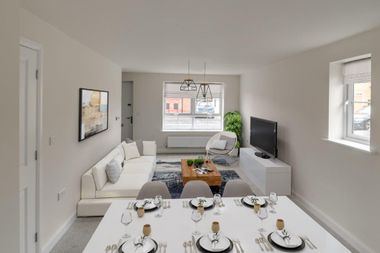 Daventry · Shared Ownership New Build
Share percentage 50%, full price £245,000
Helping you along the buying process
What is Shared Ownership?
Shared Ownership is an affordable home ownership scheme which makes it easier for eligible purchasers to get on the property ladder. Buyers get a mortgage for the share they can afford, and pay rent on the remaining share.
The steps to find your new Shared Ownership home
Research
We have a wealth of tools, FAQs, guides and blogs to help you understand your options
Search for a property
Find the right home for you in Finedon and register your interest
Speak to the specialists
Contact a Mortgage Broker and Solicitor Panels to help you through the buying process
Featured Developers
The major providers of Shared Ownership, Help to Buy and other affordable ways to buy a home in Finedon and nationwide have their homes listed on Share to Buy.
Find your home with Share to Buy
Learn more about the UK's leading first time buyer property portal, specialising in affordable home ownership options including Shared Ownership and Help to Buy
Start your search today
Who are Share to Buy?
Share to Buy is the leading online portal for Shared Ownership properties. Established in 2004 as the UK's first specialist online mortgage broker for affordable home ownership products, the site has since developed into a one stop shop for first time buyers, offering the country's largest listing of Shared Ownership homes from many of the UK's biggest housing providers.
Why should I register with Share to Buy?
Share to Buy is the nation's biggest and best established affordable home ownership property portal, making it the ideal website for first time buyers looking to take that first step onto the property ladder.
Using our property search tool, you can search for homes that suit your needs via filters such as location, number of bedrooms, monthly outgoings and deposit amount. You can also set up alert preferences so you'll be notified when new properties that meet your search are announced by email.
Acting as a one stop shop for first time buyers, Share to Buy also offers handy FAQs and guides, interactive mortgage tools, mortgage broker and conveyancing panels, and live events to help potential purchasers on their home-buying journey.
Shared Ownership Finedon - Shared Ownership Properties for Sale in Finedon - Share to Buy
If you're a first time buyer, then you may be worried that your home ownership aspirations are beyond your reach. With Shared Ownership homes in Finedon, that doesn't have to be the case. They can make that vital first step onto the property ladder more accessible and affordable than you may think. Similarly, Help to Buy homes in Finedon offer excellent options for buyers looking to settle down somewhere they love.
Want to stay updated with the latest Shared Ownership and Help to Buy properties in Finedon? All you have to do is sign up to Share to Buy and register to receive alerts when relevant properties are added to the market.
The town of Finedon is so rich in resources that it was best known in the late 19th century for the iron ore which it produced. But that is far from the only thing which Finedon is rich in. For starters, it boasts a fascinating history, having first appeared in the Domesday Book at the turn of the new millennium.
Later, it became known for architectural gems like the Finedon Hall, St. Mary's Church and the Water Tower. These splendid structures show you how you can track different periods of English history by merely marvelling at the many amazing buildings that make up the charming setting of Finedon.
That brings us to another example of Finedon's positive attributes in architecture: not only due to how historically interesting they are but also for how they provide such a beautiful landscape for the area's natural assets to shine even brighter than they already do. And improving said landscapes is no small order.
That's because the green spaces in Finedon are truly inspiring, like the gorgeous Pocket Park and Cally Banks. Beautiful sights like these perfectly exemplify what Finedon has to offer visitors and residents alike. They provide variety for your eyes as well as a variety of experiences all-round. After all, Finedon is all about offering a wealth of options. As we said, this is a town rich in more than just iron.
Let's, for instance, talk about the wealth of opportunities available here. The economy of this Northamptonshire town and its surrounding areas has, of course, changed dramatically throughout the centuries. Ultimately though, that just leaves you with more options to follow the kind of path – either educationally or employment wise – that is right for you. This also means that Finedon can provide for a variety of people of all skills and experiences, making it ideal for buyers from all walks of life.