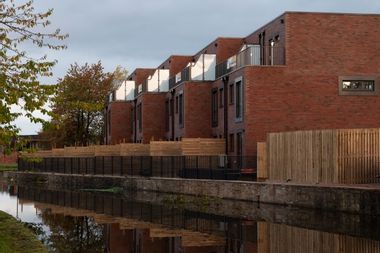 Wigan · Shared Ownership New Build
Share percentage 50%, full price £255,000
Helping you along the buying process
What is Shared Ownership?
Shared Ownership is an affordable home ownership scheme which makes it easier for eligible purchasers to get on the property ladder. Buyers get a mortgage for the share they can afford, and pay rent on the remaining share.
The steps to find your new Shared Ownership home
Research
We have a wealth of tools, FAQs, guides and blogs to help you understand your options
Search for a property
Find the right home for you in Newton le Willows and register your interest
Speak to the specialists
Contact a Mortgage Broker and Solicitor Panels to help you through the buying process
Featured Developers
The major providers of Shared Ownership, Help to Buy and other affordable ways to buy a home in Newton le Willows and nationwide have their homes listed on Share to Buy.
Find your home with Share to Buy
Learn more about the UK's leading first time buyer property portal, specialising in affordable home ownership options including Shared Ownership and Help to Buy
Start your search today
Who are Share to Buy?
Share to Buy is the leading online portal for Shared Ownership properties. Established in 2004 as the UK's first specialist online mortgage broker for affordable home ownership products, the site has since developed into a one stop shop for first time buyers, offering the country's largest listing of Shared Ownership homes from many of the UK's biggest housing providers.
Why should I register with Share to Buy?
Share to Buy is the nation's biggest and best established affordable home ownership property portal, making it the ideal website for first time buyers looking to take that first step onto the property ladder.
Using our property search tool, you can search for homes that suit your needs via filters such as location, number of bedrooms, monthly outgoings and deposit amount. You can also set up alert preferences so you'll be notified when new properties that meet your search are announced by email.
Acting as a one stop shop for first time buyers, Share to Buy also offers handy FAQs and guides, interactive mortgage tools, mortgage broker and conveyancing panels, and live events to help potential purchasers on their home-buying journey.
Shared Ownership Newton le Willows - Shared Ownership Properties for Sale in Newton le Willows - Share to Buy
If you're a first-time buyer, you may feel concerned that your dreams of home ownership are out of your reach. Shared Ownership homes in Newton-le-Willows could offer the ideal solution. They can help you take that vital first step onto the property ladder. Similarly, Help to Buy homes in Newton-le-Willows offers buyers affordable options to settle down in a location they love.
Staying updated with the latest Shared Ownership and Help to Buy properties in Newton-le-Willows is easy. Simply sign up to Share to Buy and register to receive alerts when relevant properties are added to your desired market.
It might not be the biggest town in the country – far from it – but Newton-le-Willows packs plenty of punch within its rather miniature frame.
There are essentially two ways to really understand this charming market town. The first is through its distinctive heritage. It is one which is utterly unique and not to be ignored, despite its place in a wider historical context. This is, after all, a history which dates all the way back to the Domesday book and beyond. It was the head of a hundred following the Norman conquest and became what is considered the world's first railway town towards the start of the 19th century.
This really is just a tiny overview to demonstrate how Newton-le-Willows doesn't need to rely on its surrounding areas but instead stands on its own. It has been doing so for a very long time now. Alongside its own history, the town also boasts its own culture. This can be felt in its intriguing past and captivating architecture as well as the community spirit which emanates through its streets.
On top of that, Newton-le-Willows is a place of astounding natural beauty and an area with a rich sporting history. Therefore, there are plenty of opportunities to stretch your legs and enjoy the great outdoors. In essence, the first way to understand Newton-le-Willows is like anywhere else: it's through its own culture, history and natural assets.
The second way to get to grips with Newton-le-Willows is to appreciate it as the incredible melting pot it is. It blends so many of the wonderful things which make the north of England such a special place to call home. It's found right between Liverpool and Manchester, bordering Warrington and Wigan. So, if you can't decide between the positives of any of these areas – and they are all excellent places to live in their own right – then Newton-le-Willows could represent, quite literally, the perfect mid-point.
Of course, this also means that you are only a short trip away from each of these locations, meaning that in a lot of ways, you don't have to choose between them at all. With both Liverpool and Manchester only being around 20 miles away, they are practically on your doorstep, opening up a whole world of opportunities to the lucky residents of Newton-le-Willows.